WE CAN NOW UNDERSTAND AND ANALYSE MULTIPLE LANGUAGES WITHIN YOUR CUSTOMER DATASET, WITH THE ABILITY TO EASILY ADD MORE IN FUTURE.
Our Customer AI platform combines data science and machine learning to understand the relationships between every topic in the world. By doing this we can make sense of every data signal we collect, and in turn our understanding of people and your customers.
Not only can we do this in English, but now in Spanish, Italian and French.
Our goal was not just to support different languages, but also to link these languages together. For example if John is interested in "London", Amélie shows an interest in "Londres" and Francesco in "Londra", we can keep track of this and know that all three of these customers are interested in the same topic: London.
So, if you have a global audience, or a very diverse customer base, we can continue to provide the richest level of actionable customer insight across multiple datasets, in multiple languages.
HOW DOES IT WORK?
Among all the knowledge bases used by our Topic Graph, we use Wikipedia to enrich customer data with meaning and context. We chose Wikipedia quite simply because it's human-curated and it's topics are linked and kept up-to-date by real people – which means we can bring a human understanding to your customer data.
With Wikipedia available in multiple languages we are able to expand our knowledge base further. The more articles each Wikipedia language has, the stronger our enrichment process will be in that language. The Spanish, Italian and French Wikipedia's each have over 1,000,000 articles making them three obvious language choices for our Topic Graph to learn.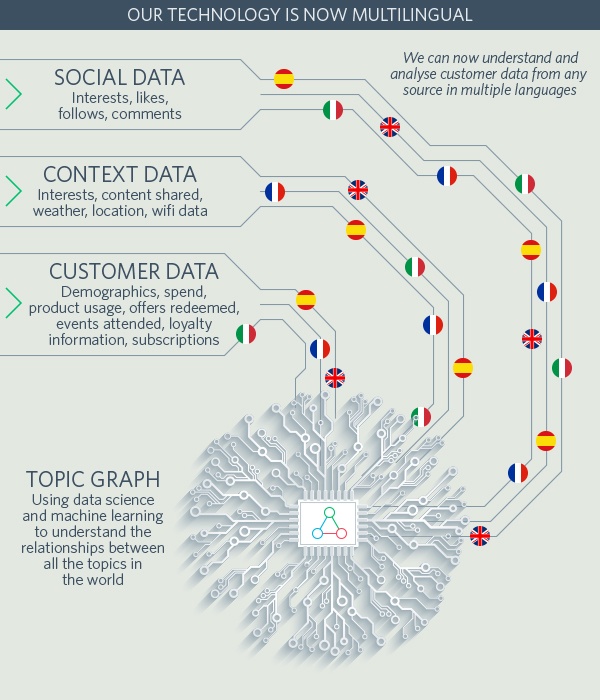 To find out more about how we can help to empower your organisation with actionable customer insights please get in touch, we'd love to help.